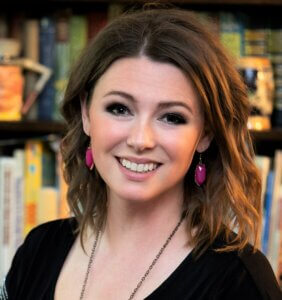 Enchanteé Mace
(Team: Clay Leatherwood & Jessica Locklear)
Enchanteé Mace is originally from the Seattle Washington area and has been performing since the age of seven. After traveling the country with Forecast Productions, she moved to NYC where she attended the American Musical and Dramatic Academy for intensive training in the performing arts. Later she was certified through The National Dance Council of America as a Ballroom dance instructor for Fred Astaire Dance Studios. Here she instructed and competed in both of the Pro and the Pro-Am divisions.
In 2009 she moved to Pigeon Forge where she has performed in Swing Time, Masters of Magic, Hoot n Holler, Memories, and the Lumberjack Feud. For the last 13 years she has taught many styles of dance to children and adults alike. From ballet, to tap, musical theater, to ballroom… She enjoys a little bit of everything! She currently teaches at Premiere Dance in Seymour.
Enchanteé was also involved at the Creative Theater as both a director and choreographer, where she found joy in instilling the love of musical theater into the next generation of performers.
Enchanteé currently is a Realtor at Century 21 MVP in Sevierville. She has been married to her husband Rich Mace for 12 years and together they have three daughters Kassadi (Son in Law Mikhail), Sophia, and Finley.
Tosha Slice
(Team: Dustin Morton & Jessie Young)
Tosha Slice was born and raised in Tennessee and has been dancing since she was 7 years old. She moved to Sevier County in 2000 to pursue her dream of Professional Performance at age 18. After performing for many years on the stages of Dollywood, Black Bear Jamboree and The Miracle Theater, Tosha was certified as a Personal Trainer. In 2012, she became a mom to a sweet baby boy who loves sports, being outdoors, music, animals, Legos and superheroes. Currently, Tosha works as an Office Manager for GM Management, Directs/Choreographs for Dollywood and teaches dance at Mountain Movement Dance Center. In her spare time, she likes to craft, read, go camping and just spend quality time with her husband and son.
Tosha is excited to partner again with United Way and Dancing with the Stars!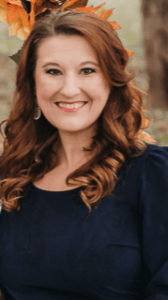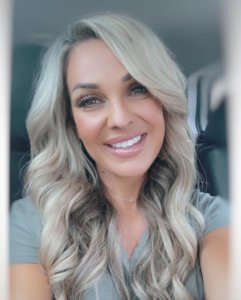 Lessie Koopman-McCarter
(Team: JP Miller & Becky Loomis Snyder)
Lessie was born in Tampa, FL but has called Tennessee her home since the age of five. Growing up in a family of musicians, singers, and performers, Lessie started to dance, act, and sing at a very young age. Since 1997 she has choreographed hundreds of routines for cheerleading groups, dance teams, theater productions, and more. Lessie's passion for dance and health drove her and her husband, Waylon, to open 3D Fit House in 2010. Over the years they have had the privilege to help thousands of people lose weight, get fit & healthy as well as teach children of all ages the art of dance.
Today Lessie and her husband live in Sevier County with their 12-year-old daughter, Aleya. Their focus is solely on family and ministry as well as personal training & health coaching their clients.
Regina Laughlin Rinehart
(Team: Patrick Harrell & Jodie Everhart)
Regina is currently the owner of Knox Heels Revolution; an adult training and performance program for people from all dancing levels as well as an Event Director for the Cedar Fair Entertainment Company, overseeing different productions, parades and shows. Until the pandemic shutdown, Regina was the resident choreographer of the Smoky Mountain Opry, where she was also a featured performer since 2017.
Before coming to the Smoky Mountains, Mrs. Rinehart performed on the Las Vegas Strip for events starring headliners such as the Backstreet Boys and Calvin Harris. Regina spent five years teaching and directing for Princess Cruises' onboard production shows out of Los Angeles. She also spent nearly a decade working for the Walt Disney Company where she was awarded the "Disney Difference" award and had the honor of being chosen for the opening cast of "Mickey's Soundsational Parade," along with multiple filming's of the "Disney Parks Christmas Day Parade" on ABC. Some of Regina's other credits include Anything Goes (Los Angeles), Sweet Charity (Los Angeles), Legends in Concert, Dino's Christmas Spectacular, Celebrate America, The Promise, Royal Caribbean Cruise Lines and a two-year run with Peter Pan starring Tony Award nominated Cathy Rigby.
With an extensive 20-year teaching background, Regina has run the ballet program of several dance schools: Dance Branson School of the Arts (Missouri), Fern Adair Conservatory of the Arts (Las Vegas), Arabesque Dance and Fitness (Las Vegas) and Penny Lane Dance Academy (Los Angeles). She was also over the dance program for the Children's Hospital of Los Angeles Child Development Center. For nearly 15 years, Mrs. Rinehart has worked as a dance adjudicator for competitions such as Celebration Talent Competition, Talent on Parade, Stage One Dance Competition and StarQuest Dance.
Regina grew up competing in the Miss America Scholarship Program in her home state of Missouri. She then went on to choreograph for the Miss Missouri Pageant and later became a member of the Board of Directors for the Miss Las Vegas program. In her free time, Regina remains active in pageantry by judging local pageants and coaching young contestants.
Mrs. Rinehart received her Bachelor of Fine Arts in Dance from Webster University, St. Louis and has extensively trained in Los Angeles, New York City and Chicago.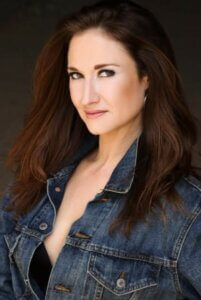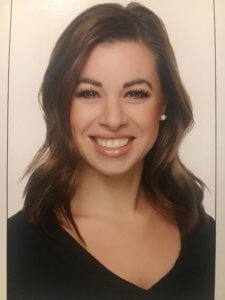 Dina King
(Team: Hunter McIntosh &  Destinny Guillen)
Dina King was born and raised in New Jersey and grew up dancing at a small dance studio called Today's Dance Center in Medford, NJ. She went on to study at Montclair State University and graduated with a B.F.A. in Dance. Dina has performed on Disney Cruise Line before landing a role as a leading lady in a Magic Show called "Unbelievable" with Brad Ross, which brought her down to Pigeon Forge, TN. Dina then performed at Dollywood for a few years as a dancer/singer in "It's a Wonderful Life", "Dreamland Drive-in", and "Christmas in the Smokies". You might've also seen her around the park with her butterfly friend "Flutter". This is Dina's second season with the Country Tonite Theatre where she is currently the female dance swing.
Dina King is now the proud owner of Mountain Movement Dance Center in Sevierville. She is very thankful to still perform part-time while being able to be at home more with her family (her husband and 2 dogs). She loves being able to share her passion of dance on the stage and at the studio with her young aspiring students. She is excited for this wonderful opportunity to share her talents with her dancing couple for DWTS! "Let your light shine before men in such a way that they may see your good works and glorify your Father who is in heaven." Matthew 5:16
Michael Headla
(Team: Josh Norris & Brooke Anna White)
Michael is originally from Fort Lauderdale, Florida, but calls Pigeon Forge, Tennessee his home.  Entertainment and Tourism have been an integral part of his life and for the past twenty plus years, Michael pursued two diverse career paths in Entertainment and Marketing.
Performance highlights; The Dollywood Entertainment Park, Music Mansion Theater, Miracle Theater, Black Bear Jamboree and the Louise Mandrell Theater.  Contract projects included; producer, director, writer and choreographer for shows ranging from regional theater to national tours such as; Blackbear Jamboree, Dollywood, Dolly Parton, Louise Mandrell, Goody's Family Clothing and Veggie Tales Live.  Michael enjoys the excitement of entertaining an audience and the magic of live theater.
Michael's experience in the tourism industry developed within the Marketing & Sales team of The Dollywood Company during the tremendous growth era of Dollywood and Dollywood's Splash Country.  To continue his adventures and expand his portfolio, Michael traveled the globe for seven years as a Cruise Director for Holland America Line, driving the guest experience through world-class entertainment and activities as he journeyed to all seven continents.  In 2015, Michael returned to his hometown of Pigeon Forge.  He served as General Manager/Show Producer for the Smoky Mountain Opry and created his 7th full scale production show for their 2019 season. Michael's passion for entertainment that creates memories lasting a lifetime and a strong belief in guest excellence are a winning combination in his position today as the Director of Guest Experience and Engagement at Collier Development Company.