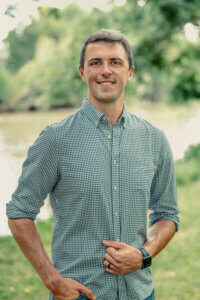 Josh Norris, Property Manager, Smoky Mountain Overnight Rentals and Affiliate Broker, New Direction Real Estate

Growing up in Sevier County, Josh graduated from Sevier County High School in 2011. He spent two years working in the hospitality industry before attending Walters State Community College. He graduated from WSCC in 2015 and later the University of Tennessee in 2018 majoring in economics and statistics. He continued on to graduate school at UT and obtained his master's degree in economics in 2022. Josh taught undergraduate economics classes as a sole instructor at UT for two semesters while in their Ph.D. program. After three years in the Ph.D. program at UT and enduring the teaching conditions during COVID, Josh chose to pursue career opportunities in his hometown of Sevierville.
Josh is recently married to his high school sweetheart Megan, who he met twelve years ago on a blind date. They work together as a team to manage overnight rentals and as buyer / listing agents in real estate. Josh also volunteers as an ambassador for the Pigeon Forge Chamber of Commerce, a board member for the Sevierville Hospitality Association, and the chair of the education committee for the Pigeon Forge Hospitality and Tourism Association. He enjoys hiking, kayaking, and camping with Megan and their dog, Moose. He is thankful to be given the opportunity to raise money for the United Way and be a part of Dancing with the Stars.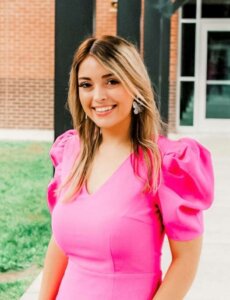 Brooke Anna White, Math Teacher, Sevier County School System
Brooke Anna Kyker White is a Sevier County girl through and through. She is the ninth generation of  the Kyker Family Farm, located on the picturesque French Broad River in Sevierville. Brooke Anna attended school in Sevier County and chose to fulfill her passion for educating the youth in her hometown. She and her husband, Josh, live on the farm with their soon-to-be two-year-old daughter, Maizie Grace, and their two boxer bulldogs. You will find each of  them working at her family's corn maze and pumpkin patch, Kyker Farms, every October!
Brooke Anna received her B.S. and M.A in Elementary Holistic Education from Johnson University, and she continued on to receive her Ed.S. and Ed.D in Education Supervision and Leadership through the University of  the Cumberlands. She has taught in the Pigeon Forge community for  the past 7 years and is part of  the inaugural staff at Pigeon Forge Intermediate School. Brooke Anna currently serves as a fifth-grade math teacher and makes it  her mission to impact every student that comes through her classroom door positively. Colleagues and friends of  Brooke Anna describe her as "determined, hardworking, and passionate" in all aspects of  her life, and her students thrive due to "Dr. White's" enthusiasm and encouragement she incorporates into her classroom each day.
Brooke Anna is a great addition to United Way's Dancing with the Stars because of all of the love from her family and friends and the support from her work family at Pigeon Forge Intermediate and the Sevier County School System. When approached at a school in-service about participating in this event, Brooke Anna couldn't think of  a better way to give back to the community that she has loved, lived, and taught in  for so many years!