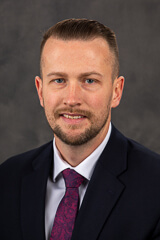 Dustin Morton, Agency Manager, Farm Bureau Insurance
Dustin has been an Agent at Farm Bureau Insurance for 11 years in Sevier County, and currently serves as the Agency Manager at the Seymour Location.
He was born and raised in Elizabethton, TN. Dustin graduated from East Tennessee State University in 2009 with a bachelor's degree in Business Administration. He moved to Sevier County in 2011 with his wife Lacey. He has two children Isabella and Branson. Dustin and his family are members of First Baptist Church of Sevierville.
He enjoys sporting activities and events. He loves being involved in coaching of youth sports for his kids and serving his community by being involved in youth sports.
Jessie Laine Young

Jessie was born in Kingsport, TN but moved to the Sevierville area at an early age. She is one of six children raised by a single mother and the first in her family to earn a college degree which she received from East Tennessee State University. She studied Dental Hygiene and finished top of her class and went on to pursue a carrier in the dental field. She worked as a dental hygienist for Dr. Sarah Boren for 5 years before stepping away to become a full-time mother; her true passion.
Jessie married her high school sweetheart, Chase Young, and have been together for over 18 years. They have two beautiful children Mason and Lainey Jayne that are her whole world. She and her husband have a local business that they started nearly ten years ago. That business has since become the largest privately owned of its kind in the state. "Our family has been immensely blessed over the years and I am excited to be part of an organization such as the United Way to help give back to our community."
As a young child, she had a strong desire to become a dancer. Unfortunately, at that time, it was not something her family was able to afford so she never truly had the opportunity to follow that dream. Because of this, she remembers one of the first goals she made in life being one that involved dance. That dream was to open her own studio that would allow children, that may find themselves in a similar  situation, the opportunity to dance as she once did. While she has not yet achieved that goal, it has not been forgotten.
States Jessie, "I believe that there is a time and place for everything, and that time may still be yet to come. It is a true honor to have this opportunity as it has not only given me the chance to take a step back in time, but it also allows me the opportunity to help give back to our community in such a big way."